Ashdown Forest rhea flock savaged in Sussex 'dog attack'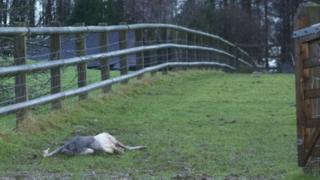 A flock of large flightless birds have been savaged in a suspected dog attack.
The eight rheas, which are similar to ostriches, were found dead on private land at Chuck Hatch, near Hartfield in the Ashdown Forest.
Owner Pauline Burnett-Dick said she alerted Sussex Police in case nearby sheep were also attacked, but the dogs had gone by the time officers arrived.
She said her whole flock, which were about 4ft (1.2m) in height, had been scattered over a fenced-in acre.
'Horribly mutilated'
Mrs Burnett-Dick said she had reared four of the birds from eggs in an incubator, so they were "quite tame".
She said she believed the dogs had either escaped from where they were kept or had been let out to roam in the early hours of Christmas Day.
"There is livestock on the forest as well as surrounding the forest, and it is so dangerous to allow your dogs to wander unsupervised," she added.
"My fear is these dogs have done it at least this once, they will in all probability, if not kept in check, do it again."
Mrs Burnett-Dick said the birds were "horribly mutilated" and added: "I think we've all heard about dog attacks but until you've actually seen the results for yourself, you just can't imagine what it's like."
Sussex Police said officers went to the property in the early hours of Christmas Day.
A spokesman for the force said a neighbour told police that a sheep he owned had also been badly bitten on the leg, apparently by a dog at about the same time.
He said inquiries were continuing.