Gatwick Airport power problems leave thousands stranded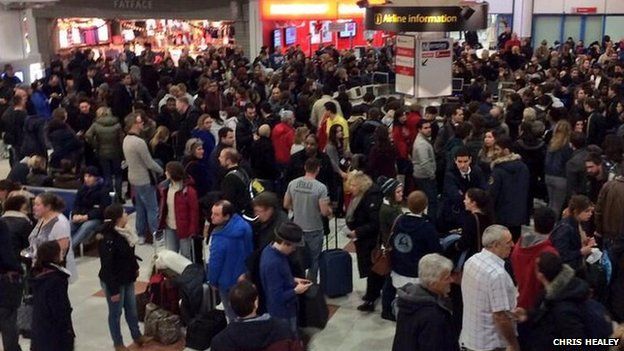 Thousands of passengers had their Christmas travel plans ruined when they were stranded at Gatwick Airport after stormy weather.
Power problems at its north terminal affected check-ins.
All departures, apart from British Airways, were switched to the south terminal but dozens of flights were cancelled as systems struggled to cope.
Gatwick said engineers were still working to fix the problem but all of Wednesday's flights would operate.
The airport said flooded electricity sub-stations led to the problems.
It added that all of the Christmas Day departures, except for British Airways flights, would continue to operate from the South Terminal.
BBC Newsbeat reporter Declan Harvey, who spent more than 11 hours waiting for a flight to Belfast, said: "Police are manning the information desks. Staff have gone 'Awol' as police do what they can to give out information.
"It's all getting very tired, cranky and angry. There haven't been huge flashpoints but people are frustrated. They have been here 11 or 12 hours and are only now finding out their flights are cancelled."
He said people had not been given information about their flights or where they should go to.
"There are children crying and women crying. Earlier a list was read out of flights that had been cancelled and people were bursting into tears."
He said there was "no rhyme or reason to baggage reclaim" because the screens had no information about which flight was having its bags offloaded.
"It's 'chaos' and no staff visible anywhere," he added.
"There is now a massive queue of people trying to leave the airport because trains are cancelled. No-one knows anything about how they are going to get home."
At 16:00 GMT, Gatwick had 133 flights due to leave the north terminal with an average delay of 90 minutes, and of those, 86 had departed and 26 had been cancelled.
By 18:20, the airport said 30 flights were due to arrive and 30 due to depart across both terminals.
At 21:00, all flights had been dealt with but some aircraft crew had surpassed restrictions on their hours of work and 11 more Easyjet flights had been cancelled, Gatwick said.
Earlier, the airline said it had cancelled 38 flights and a number of others had been delayed.
The airport said it was helping those passengers to get home.
Gatwick said its car parks were all full and people were travelling by car and by bus and taxi.
No trains ran to or from the airport for most of the day because of fallen trees on the line and disruption across the network.
Southern suspended its Gatwick Express services because of a landslip between East Croydon and the airport.
Southeastern also reported major disruption to its rail services throughout the evening.
An airport spokesman said police were present at the terminal, following reports that officers were manning information desks instead of staff.
He said: "In terms of trying to deal with extremely upset people, it is not uncommon to have police there to make sure people who are expressing themselves are doing it within the law."
He said Christmas Day was usually quiet at the airport and staff would be using the time to "regroup" and prepare for Boxing Day.
"We remain incredibly apologetic and are desperately trying to put things right but it will take the time it takes in terms of getting it right," he added.
Travel journalist Simon Calder said he estimated about 10,000 people in total would not get to their destination and would end up spending Christmas in various parts of Europe as a result of the disruption.
Transport minister Baroness Kramer told Prime Minister David Cameron air passengers at Gatwick and those trying to get there, had shown common sense and good humour in miserable circumstances.
However, she added safety had to be the priority on Gatwick train services, which could not run unless lines were clear.
The government would look afterwards to see if there were things that could have been handled better, she explained.
Passenger Rachel Rouse, who arrived at the airport hoping to fly to Tenerife for Christmas, said: "All the screens went down, which obviously wasn't their fault because of the electricity. But when the screens did go back up the only things that were on it was a message saying, 'Merry Christmas'."
Peter Lambert, another passenger who emailed the BBC, said: "As usual there is a complete lack of communication.
"The staff have to shout instructions, the PA only works for pre-recorded announcements of no use at all. They could do with investing in some loud hailers.
"Easyjet are doing their best by moving people flight by flight to the south terminal. All in all, a pretty poor show from Gatwick Ltd."
Related Internet Links
The BBC is not responsible for the content of external sites.