Sea search for Brighton woman is called off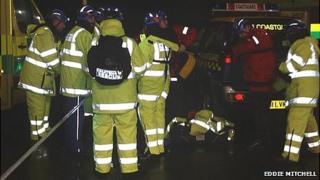 The search for a 36-year-old woman believed to have been swept out to sea at Brighton has been called off.
Coastguards said it was thought a couple entered the sea after a night out and the woman was swept away.
Rescue teams were scrambled overnight but waves of up to 3m in height made it impossible, the Maritime and Coastguard Agency (MCA) said.
Conditions during an early daylight sweep on Saturday proved to be so poor it had to be cancelled.
Helicopter search
Solent Coastguard watch manager Paul Marlow said: "We believe that a couple went in to the sea after a night out on the town.
"One managed to get back out but sadly the other was swept away.
"Gale force wind, rough seas and darkness make it difficult to spot a person in the water who needs help and so our request is simple - please don't end your night out with a dip."
Coastguard, lifeboat and police teams worked to rescue the woman and a helicopter was scrambled after the alert was raised just before 02:25 GMT.
Ambulance crews were also at the scene.
People at the scene tried to reach the woman, believed to be from Brighton, after she went in the sea opposite the Digital Club, west of Palace Pier.
Sussex Police said that by 04:40 GMT no body or person had been recovered.
'Washed away'
A police spokesman said: "The man tried to grab her but was unable to drag her to safety.
"Police officers arrived within minutes and, together with club staff and her friend, approached the sea edge but the woman was being washed further away and was inaccessible due to the very heavy sea conditions.
"Coastguards swiftly assisted the search by land and sea but the body has not, so far, been recovered and the immediate search has been discontinued at this time."
He said it was not known why the woman went into the water but that the incident was not being treated as suspicious.
Family liaison officers had contacted her next of kin, he added.
Ch Supt Nev Kemp said police and coastguards searched for the woman for several hours in very difficult and dangerous weather.
"The sea was very rough indeed overnight and we always urge people to be very careful and stay away from the water's edge anywhere along the coast when the weather is so bad," he said.
Searches continued in daylight but rescuers failed to find the woman and were stood down at 09:00.
"We will continue to be vigilant for any sightings along the beach," Mr Kemp added.