Seven dials junction work completed after elm protests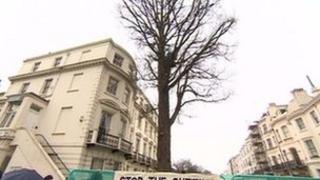 Work on a major junction in Brighton has been completed despite a protest over the proposed felling of a mature elm tree.
The Seven Dials junction was labelled the "most accident prone" by Brighton and Hove City Council, with 20 accidents in the past three years.
An elm tree was due to be removed, but was saved after two protesters spent 48 hours up the tree in March.
The work included replacing a mini-roundabout and removing street clutter.
Guard railings have also been removed and the paving has been replaced.
The seven roads that meet at Seven Dials include the A2010, a major route through Brighton.