Hastings Pier shares deadline is extended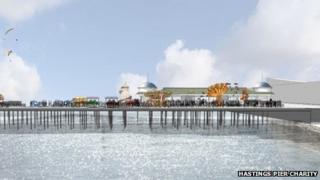 The deadline to buy shares in Hastings Pier has been extended so more money can be raised for the Grade II listed structure's restoration.
More than £170,000 worth of shares - at £100 each - have been sold since October, £30,000 short of Hastings Pier Charity's minimum target.
The share offer was due to close on 4 January but it has now been put back to 5 April.
The 140-year-old pier is being rebuilt following a severe fire in 2010.
The majority of the £14m needed to restore the structure has come through the Heritage Lottery Fund but Hastings Pier Charity hopes a further £500,000 can be raised by selling shares.
Simon Opie, CEO of the Hastings Pier Charity, said: "We've already raised well over £170,000 and the huge majority of that is local investors and small sums, but we need around £500,000 to finish the building and put visitor attractions on to the pier."