Mother's appeal over son's Littlehampton arson death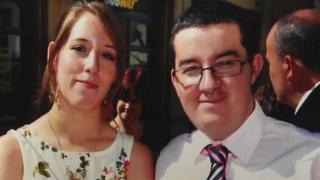 A man with learning difficulties, whose death in a fire in West Sussex is being treated as murder, was "determined to live independently", his mother said.
Terry Davies, 24, died in the blaze at flats in South Terrace, Littlehampton, on 12 September.
The fire, which had been started with white spirit, is being treated as arson, Sussex Police said.
Mitzi Price said her son was "a typical bloke" whose life had started when he met his girlfriend Kerry.
"Terry said to me he was going to ask Kerry to marry him, he couldn't keep a secret, he talked to her about it and they were so happy," she said.
Memorial tree planted
Mr Davies had lived in the one-bedroom flat on the seafront for about 16 months.
"The flat was a typical man's flat, a bit messy, he was a typical bloke really," Ms Price said.
"I was always like a typical mum, worried about him, but he was fine, and when he got with Kerry that's when his life started."
His colleagues at Morrisons, where he started working in February, have planted a tree for him.
Ms Price has appealed for anyone with information on the fire and her son's death to come forward.
"Even if anyone has the smallest piece of information, just a little snippet, all of it can add up and if anyone can think of anything from that night it could help.
"All I keep thinking is why? Why would someone do that? Why Terry? I think of that all the time."
A post-mortem examination showed Mr Davies died from the effects of breathing in smoke.
Four other people were taken to hospital.
"A part of me has died. He has left a huge hole in our lives," Ms Price said.