Sussex boarding school plan for London pupils rejected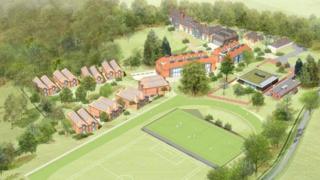 Plans to build a £22m state boarding school in West Sussex for children from inner-city London have been refused planning permission.
The South Downs National Park Authority said the 375-pupil Durand Academy in Stedham was too big and its impact on the landscape would be "inappropriate".
The 20-acre site was formerly used by the 100-pupil St Cuthman's School, but the building is now empty.
The Durand Academy said the decision was deeply disappointing and misplaced.
The academy, which runs a primary school in Stockwell, south London wanted to offer secondary places from 2014 in the first scheme of its kind in England.
Students, who would attend the school from the age of 13, were to travel from London to Stedham by bus on Monday mornings and return to the capital on Friday afternoons.
The Department for Education has pledged £17.34m for the school with the Durand Education Trust, which owns the site, providing a further £5m.
'Vigorous defence'
Margaret Paren, chair of the national park authority, said it recognised the school would have clear benefits for inner-city children and allow them to broaden their experiences.
"It was a question about the scale of the development," she said.
"The school which it would have replaced took in about 100 pupils.
"This is for a much bigger scheme which would have involved a lot more building on the site.
"If the Durand Academy appeal we will put up a vigorous defence of our position."
The academy said it had worked closely with the national park authority for more than two years.
"It remains our firm intention to proceed with the project and we are considering all the options available to us," it said in a statement.
"Following some 20 meetings with officers, seven public meetings, and an investment of nearly £300,000 refining our designs, every concern was addressed about the plans.
"We sunk the sports hall below the ground, we lowered the height of buildings, and we reduced pupils numbers from 600 to 375.
"We have no doubt that this project will go ahead and we have contingencies in place to manage the delay.
"We remain confident that Durand pupils will be given the opportunity to learn and flourish in this unique educational environment, as they so richly deserve."