University of Sussex protest students no longer suspended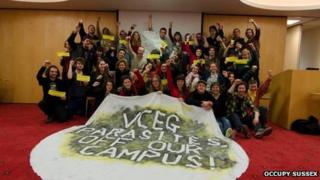 The University of Sussex has lifted the suspensions and exclusions that were placed on five students because of their involvement in recent protests.
However, it said disciplinary processes against the group would still continue.
In a statement, it said the students had been involved in organising or leading occupations on campus which had led to theft, damage and violence.
Student spokesman Michael Segalov tweeted: "This is an achievement, not yet a victory."
'Disruptive' occupations
The students occupied part of Bramber House in support of last Tuesday's national strike by lecturers and administrative staff over a 1% pay offer.
They were also protesting in support of calls to end the privatising of some support services at the university.
The university said it had taken the action to suspend and exclude them because protests had been characterised by "violence and intimidation".
The students said the measures were "draconian" and those involved in the sit-in left peacefully on Wednesday.
More than 9,400 people signed a petition in support of the students, calling for the university to retract the suspensions.
The university said there had been three "disruptive" occupations since February 2013, including a seven-week protest that led to clashes with police and bailiffs in April.
Announcing the decision to lift the suspensions and exclusions, the university said the Vice-Chancellor, Professor Michael Farthing, had taken account of representations received from staff and students, as well as the fact that the term ends on Wednesday.
"We will keep the position under review as the disciplinary processes are taken forward over the coming weeks," Professor Farthing said.