Chancellor outlines support for fracking in Autumn Statement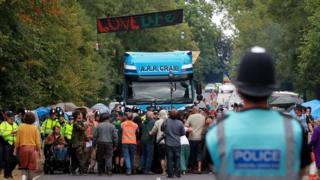 For the first time in some years George Osborne enjoyed positive economic figures from the Office for Budget Responsibility (OBR) and was able to tell MPs that the economy was growing faster than expected.
That said, his messages was that "this government will fix the roof while the sun is shining" - an obvious dig at the last Labour government, who he said should have done more to tackle the deficit while the economy was growing.
Given that, he really didn't have many giveaways and the ones he outlined, such as free school meals and married tax breaks, we already knew about.
So what was new?
Well, if you we were in any doubt about the government's commitment to fracking George Osborne was very clear about their position today with the announcement of more financial support for companies extracting shale gas.
'Serious about shale'
He said we must be prepared to push the boundaries of scientific endeavour in controversial areas like exploration for shale gas.
The Chancellor compared it to the beginnings of the oil industry and said: "The country that was the first to extract oil and gas from deep under the sea should not turn its back on new sources of energy like shale gas because it's all too difficult."
He announced a new tax allowance to encourage investment in shale gas that will see tax rates on early profits halved.
The energy minister and Sevenoaks MP Michael Fallon added: "We're getting serious about shale gas - it's made a huge difference in the United States - it's meant cheaper energy for households but also for business.
"We now know we are sitting on top of an awful lot of shale gas so this is to encourage companies to explore now, to drill and to get down there and see if they can get it out."
I'm sure that pledge will be welcomed by companies such as Cuadrilla, who carried out exploratory drilling in Balcombe over the summer, but not by the protesters who are against any fracking in Kent or Sussex.
'Concern over fares'
There was good news for road and rail commuters. The planned fuel duty increase for next years has been cancelled and some train fares rises may not be as big as expected.
Next January the average regulated ticket price will go up by 3.1% as opposed to the planned 4.1%. The reduction means the average South East commuter could see their season ticket increase by £40 to £50 a year less than predicted.
But the shadow chief secretary to the Treasury Chris Leslie warned that despite the Chancellor's announcement the flexibility to go even higher on some of the busiest routes remained and Labour's biggest worry was that "commuters on those already very busy trains are going to be hit hard because flexibility has been given to the train companies".
There was some help for struggling high streets with the announcement that there would be rate relief for new occupants - £1,000 discount for people taking over vacant high street shops - clearly an attempt to attract new businesses to our towns.
'High street help'
Shopping guru Mary Portas has been advising the government as well as retailers in towns like Margate about how to regenerate their high street.
She welcomed today's announcement, saying: "I think Mr Osborne's announcement clearly signals a recognition by the government of the importance of the real pressure facing small businesses and high streets."
The message from the Chancellor was that "the job is not yet done" but austerity was working. So if you thought there was light at the end of the tunnel you may be disappointed.
Mr Osborne also confirmed today that people now in their 40s will not get the state pension until they are 68 and those in their 30s will have to wait until they are 69.