New evidence for Battle of Hastings site considered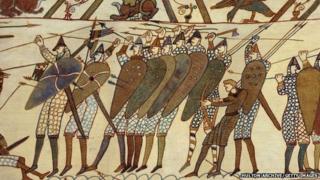 New evidence that questions the traditional site of King Harold's death during the Battle of Hastings is being considered by English Heritage.
Battle Abbey in East Sussex is said to stand on the spot where King Harold died when the English army was routed by the Normans in 1066.
But Channel 4's Time Team claims he fell on the site of what is now a mini roundabout on the A2100.
Abbey curator Roy Porter said the theory would be taken into account.
English Heritage runs 1066 tours of the traditional site of the Battle of Hastings but the actual location has been disputed before.
Nick Austin, author of Secrets Of The Norman Invasion, claimed in 2011 that King Harold was defeated by William the Conqueror two miles away in Crowhurst.
Time Team presenter Sir Tony Robinson said the programme used aerial technology called LIDAR to map the terrain at Battle which showed the traditional site would have been too boggy for the Norman cavalry.
"There was a long ridge which the Normans would have to take if they were going to head north and within that there was a narrow pass," he said.
"The narrow pass was the perfect place for Harold's men to build their shield wall.
"There is apparently no sense whatsoever in fighting the battle in the field below Battle Abbey which has always been designated and thought of as the site of the actual fighting."
The pass lies on today's A2100 road.
Mr Porter, who works for English Heritage, said the location identified by Time Team fell within the wider battlefield area.
"We have always maintained that the Abbey is built on the site of the battle because sources dating back to the early 12th Century state that," he said.
"The now-famous roundabout lies about 100m to the east of the abbey's precinct wall and, of course, the fighting would have taken place over a wider area than simply the road and the roundabout.
"The fighting would have gone along the ridge and on the commanding position of the ridge you find Battle Abbey."
He said it was very difficult nowadays to get a sense of the landscape of the battlefield because of the road.
"But I do agree that the theory is worth considering and I hope that further work will either confirm or undermine it.
"Certainly we want to take it into account when we revise the interpretation here."