Miliband focuses on apprenticeships in Crawley visit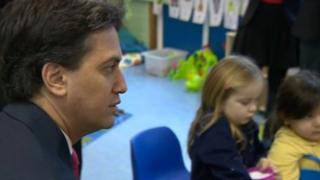 While the prime minister was in China with a trade delegation the Labour leader Ed Miliband was much closer to home.
He went to Caterpillars pre-school nursery in Crawley to highlight the importance of apprenticeship schemes in helping to build a strong economy.
"A Labour government would say to companies: 'If you want a major government contract you must provide apprenticeships for the next generation'," he said.
"We'd say: 'If you want to bring in a skilled worker from outside the European Union you must also provide apprenticeships'.
"It would say to our young people there is a future - a high wage, high-skill future for you not a low wage, low skill future."
It's interesting he chose to focus on the issue of apprenticeships as government figures show more people than ever are taking part in them.
Wiped off map
Crawley's Conservative MP Henry Smith said there was an 89% increase in the number of apprenticeships in his constituency last year.
But it's not just young people's futures Ed Miliband is worried about - it's his own party's.
Before the last election Labour had seven MPs in Kent and five in Sussex but in 2010 it was wiped off the political map, which turned blue.
It currently doesn't have a single MP in the region. Ed Miliband says he is determined to change that so perhaps his choice of Crawley is no surprise.
It is number six on Labour's key target list of seats in the South East it wants to win back in 2015. And if that's to happen he - and his team - are going to have to be out across Kent and Sussex campaigning.
He told me: "I'm going to be here a lot - right across the region - talking about Labour's message, how we can make a difference to the country.
"We've got really important things to say to people who are worried about their train fares; worried about the cost of childcare; worried about their energy bills - that's where Labour is talking about the issues that matter to people right across this region."
Political commentator Quentin Letts said: "Some people might say that Ed Miliband is wasting his time in the South East but if he didn't do this he'd be accused of ignoring the South East".
He also said Labour strategists believe "all we have to do is get our basic vote out and we've got the election in the bag".
So, while the next election may still be 18 months away this visit is a clear indication of just how crucial a battleground the South East.
It looks like the starting gun for the campaign has already been fired.