Cattle introduced to Fairmile Bottom chalk grassland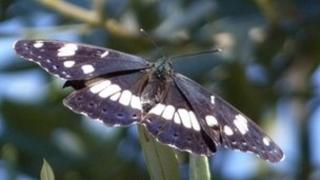 Cattle have been introduced to chalk grassland in West Sussex to help provide more habitats for wildlife.
The animals are grazing at Fairmile Bottom, a Site of Special Scientific Interest near Fontwell.
More than 10 different kinds of orchid have been found in the area, as well as grizzled skipper and white admiral butterflies, bats and various birds.
The county council, which manages the land, said dung attracted insects and the birds and bats that feed on them.
The spokesman said the authority hoped the herd's presence would encourage plants such as bee and fragrant orchids to grow while promoting the arrival of butterflies, grasshoppers, mice and shrews.