Brighton and Hove's 'elderly and vulnerable' face cuts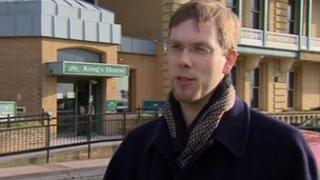 Services for the elderly and vulnerable adults are likely to be reduced as Brighton and Hove City Council cuts £24m from its budget next year.
The council has said it will slash £6m next year from adult social care services alone.
Green council leader Jason Kitcat said the authority faced cuts in its government grant and increased demand from a changing population.
Unison union leader Alex Knutsen said the council had reached a crisis.
The proposed budget for 2014-2015, which includes a 2% council tax increase, has just been published.
Safety net
The document says 90% of adult social care services are already being delivered at lower cost in the private sector so the council will be looking at which ones it continues to provide.
It says it will focus on meeting statutory needs, providing services of last resort and a safety net.
It will also concentrate on short-term services that maximise independence and support people leaving hospital, and provide for people with highest and most complex needs.
Mr Kitcat said the council tax increase was "modest" and would not cover the full scale of financial pressures on the council.
He said there would be job losses but he hoped to avoid compulsory redundancies.
'Isolated'
Mr Knutsen said the idea of the council becoming a service of last resort horrified him.
"That means there are going to be thousands of people in this city who would have got a service a few years ago who wont get it any more," he said.
"That is people who are isolated, the elderly, the disabled and so on."
Anne Meadows, Labour spokeswoman on adult social care, said the most vulnerable frail and elderly people and those with learning disability and mental health issues would see the deepest cuts.
Conservative opposition leader Geoffrey Theobald said his party had made it clear it would not increase council tax.
"Instead of insisting all the council services stay in house the Green administration should have been market testing them from day one, not three years into their time in office," he said.
"The impact on front-line services would have been significantly less."
The proposals will be subject to consultation and a final decision will be made by Full Council on 29 February 2014.