Skipper rescued after boat fire off Shoreham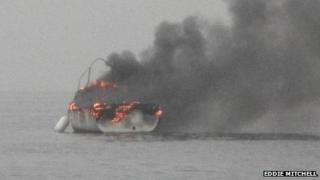 A skipper who had to abandon his boat after a fire and several explosions on the vessel has been rescued.
The man was rescued from his life-raft off West Sussex at about 10:00 GMT.
He was brought ashore unharmed, but lifeboat teams continued to monitor the 27ft (8m) angling boat, which ended up engulfed in flames near Shoreham.
Coastguard watch officer Jenna Smith said other vessels were warned to keep away from what was a "dangerous situation".
She said the boat was "very hazardous" because it had been carrying about 150 litres of diesel and two gas canisters.
The man had tried to fight the fire but abandoned the Margaret Rose six miles from shore, she added.
He had called 999 to report the fire.