University of Sussex students reoccupy campus building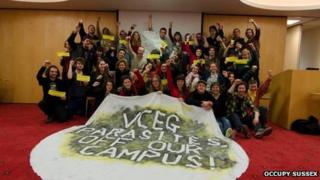 Students have occupied a University of Sussex building for the second time in a year in a protest over the working conditions of university staff.
The move is in support of a national strike next week by university staff and calls for an end to the privatising of some support services at Sussex.
The University said it was taking legal steps to end the action.
A seven-week protest at Bramber House, on the campus at Falmer, led to clashes with police and bailiffs in April.
The students entered the third floor of the conference centre on Tuesday evening saying their "fight against privatisation" had been going on for more than a year.
In a statement, they said catering services at the University of Sussex had already been privatised, with the privatisation of the estates and facilities services due to go ahead in January.
"These people are essential staff to the university, as estates and facilities includes security, maintenance, cleaners and porters.
"Since catering was privatised, we have seen all new staff employed on worse working conditions than the transferred Sussex staff," the students said.
They added that they remained "open and interested in dialogue with the university".
'Improvement in service'
The University of Sussex said between 30 and 40 students had used the cover of an event for postgraduate students to "unlawfully gain access" to the conference centre.
The University's registrar, John Duffy, said: "This same small minority of students who were involved in occupation earlier this year are once again seeking to disrupt the university community.
"Those undertaking this disruptive activity are a very small number of students out of a community of 15,000 people."
Mr Duffy added: "No services in Sussex have been privatised. We have agreed a new partnership to manage our on-campus catering and that has led to more people using our campus cafes and a welcome improvement in service standards.
"Staff who transferred to our new partner had their conditions of employment protected and this was done through negotiation and agreement with the recognised trade unions.
"The same protections apply to facilities staff who will be transferring to the new Sussex Estates and Facilities partnership in January," he said.