Brighton council plans nine more 20mph zones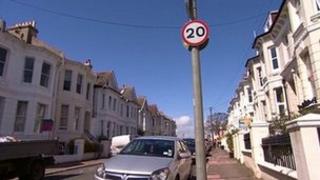 Proposals for a 20mph speed limit to be extended to nine more areas of Brighton have been put forward.
Brighton council said 15,000 people took part in a consultation and the plans would be considered next month.
A report said most people had supported the introduction of 20mph limits in streets where they lived. It said 2% of respondents and taxi trade representatives had opposed the plans.
The council said no final decisions would be made until March.
The nine 20mph zones being considered represent phase two of the scheme after phase one was brought in earlier this year.
'Drivers advised'
The council said phase one of the scheme had brought a fall in traffic speed on 74% of the roads.
It also said there had been a 20% decrease in the number of collisions and a 19% decrease in the number of casualties.
Last week, Sussex Police stopped about 50 drivers breaking the 20mph limit, during a training exercise for officers on use of speed detection equipment.
All were given advice on the need to comply with limits and none were given a formal penalty.
Insp Jason Hazzard said: "We expect drivers to play their part in improving safety by complying with the limits. However where drivers are regularly and wilfully breaking the law and it is raised as an issue by residents, we will take action to deal with offenders."
The nine planned areas are West Hove, Dyke Road West, Dyke Road East, Preston, Patcham and Hollingbury, Coldean, Hollingdean and South Moulsecoombe, Bevendean and North Moulsecoomb, and East Brighton.