Death of biker Kerry-Ann Theron 'remains a mystery'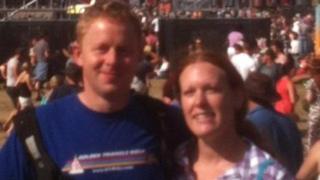 The fiancé of a woman who died in hospital after a motorcycle crash has said her death remains a mystery and has appealed for information.
Kerry-Ann Theron, 30, of Uckfield, East Sussex, came off her Yamaha bike in Maresfield High Street on 25 October.
Sussex Police believe she fell from her bike and may have been hit by a car after she fell.
Her fiancé, Steve Pronger, said: "I miss her terribly and I just want to understand what happened."
Ms Theron, who was from Zimbabwe, died at Southampton General Hospital on the same day as the crash. Her funeral was held on Monday.
'Lovely red hair'
Mr Pronger added: "Kerry's death remains a mystery as it seems unlikely that a simple fall at quite a low speed would have such tragic consequences.
"Police believe that there may have been another vehicle involved, perhaps quite innocently, and I would appeal to anyone who has the smallest bit of information that might help their investigation to get in touch.
"Kerry and I were to be married next June and the month before she died I travelled to Zimbabwe to meet her parents for the first time.
"She was full of life, absolutely dedicated to her work as a locum veterinary nurse and well-known to pet owners at a large number of vets' surgeries in the area.
"She was an avid horse rider and just as enthusiastic motorbike rider, heading out with the Rickney Tuesday Biker Boys Club for fish and chips in Rye, a burger at Dunkies in Seaford and inevitably an ice-cream on Eastbourne seafront.
"Kerry wasn't frightened to have a go at anything and would always get stuck in with a smile and a laugh. I have had some wonderful messages about her and they all mention her humour, her smile and that lovely red hair."