Easyjet new routes to create jobs at Gatwick Airport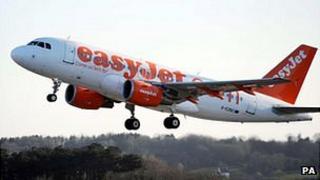 Easyjet has claimed it will create 200 jobs when it launches new routes from Gatwick Airport.
Flights to Brussels and Strasbourg will start on 30 March after the firm bought slots at the airport from Flybe.
Routes to Jersey, Paris and Newcastle will also be launched, as well as increased services to other destinations in the UK and Europe.
The airline said it would be employing an extra 200 pilots and cabin crew who will be based at Gatwick.
Easyjet purchased landing slots at the West Sussex airport from Flybe in May.
An extra 1.3 million passengers are expected to fly with the airline to and from Gatwick Airport using the new routes, Easyjet said.
Flybe's services between Guernsey and Gatwick will cease from March after Easyjet withdrew its application to run the service.
In October, Easyjet announced flights between Newquay and Gatwick are to stop, ending the far south west's only year-round air link to London.
Flights will continue during the summer months to London Southend.