West Sussex anti-fracking protesters in council talks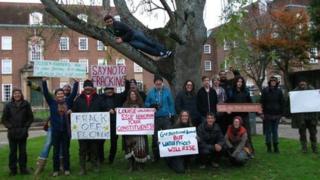 Anti-fracking campaigners have had talks with the council in West Sussex after setting up a protest camp outside County Hall in Chichester.
Council leader Louise Goldsmith is to ask the prime minister again for a national debate on the issue after "a constructive exchange of views".
She said the council recognised people's right to protest and talks with campaigners would continue.
But she said she now hoped protesters outside County Hall would leave.
After the meeting, Ms Goldsmith said she planned to write to David Cameron.
A first letter sent by Ms Goldsmith on 7 November went to all West Sussex MPs and was copied to David Cameron.
It called for an evidence-based public debate about fracking led by government leaders in order to have "necessary status and credibility".
Ms Goldsmith said her second letter would be addressed to the prime minister.
Possession order
After the talks on Monday, she said: "I hope we made the point clearly that, as a planning authority, we have to be independent and impartial when dealing with any application for planning permission."
Ms Goldsmith said the protesters were outside a building not only used by West Sussex County Council (WSCC) but also hired out to the public.
About 25 people pitched nine tents at the weekend.
It followed legal action by WSCC to obtain a High Court possession order for roadside verges at Balcombe, where protesters had camped since the summer outside the site used by energy firm Cuadrilla for exploratory oil drilling.
At the height of the protests, more than 1,000 activists gathered there.
The possession order was sought after most protesters left, but a handful remained on the roadside.
The council has provided an alternative protest area near the Cuadrilla site, but has said camping will not be permitted.
Campaigners at Monday's meeting raised general issues about fracking and also questioned the council's decision to seek the possession order - which WSCC had said was on safety grounds.
Worthing Against Fracking asked whether there had been any consultation between WSCC and the emergency services over fracking and called for more transparency and public reassurance.
Vanessa Vine, from Frack Free Sussex, said the council had to remember its responsibilities to protect residents and ecology, rather than "pandering" to corporate interests.