Balcombe anti-fracking camp moves to council HQ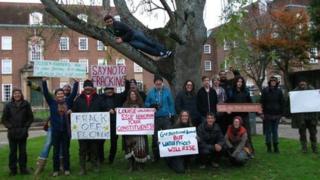 Anti-fracking campaigners have pitched their tents outside the HQ of West Sussex County Council after a roadside camp was repossessed.
About 25 people with nine tents are protesting outside County Hall in Chichester, Sussex Police said.
On Monday the High Court granted the council a possession order for grass verges at Balcombe where the protesters had been camping since the summer.
The council said arrangements were in place to ensure the protest was lawful.
'Fight not over'
Frack Free Sussex said the campaigners intended to occupy land in front of the council HQ until at least Monday.
It said they intended to present council officials with a statement detailing their concerns.
Spokeswoman Vanessa Vine said the campaigners moved the camp because the county council had taken legal action against "peaceful protectors".
"It goes to show that the fight is not over. In many ways Balcombe was just the beginning," she added.
"What we hope is that a lot more people are now thinking where we get our fuel from."
At the height of the Balcombe protest in August, more than 1,000 gathered to demonstrate their opposition to test drilling being carried out by energy firm Cuadrilla.
'Peaceful protest'
Oil was found at the site, and Cuadrilla has now signed a new 30-year lease on the land to allow it to continue exploration work.
Campaigners fear it will lead to fracking taking place to extract the oil.
While most activists left the Balcombe camp after Cuadrilla packed up, a small number stayed on until earlier this week.
A Sussex Police spokesman said: "Sussex Police are aware of a small gathering of people and tents outside the West Sussex County Council buildings.
"It is a peaceful protest taking place on land belonging to the council.
"Officers are dealing with the situation and are in liaison with West Sussex County Council."
The council has said it has provided an area at Balcombe for protesters to gather but camping is no longer allowed because of the safety risk on the B2036, an unlit road with a 60mph speed limit.
It said in a statement: "The county council was made aware of plans to hold an anti-fracking demonstration outside County Hall in Chichester.
"Appropriate arrangements are in place to ensure any protest remains lawful."