Falmer records office The Keep set to open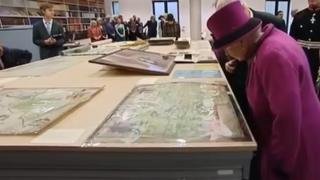 A new £19m archive centre housing the records of more than 900 years of Sussex history is set to open.
The Keep at Falmer replaces the record office at The Maltings in Lewes, which was declared unfit for purpose by the National Archive in 2006.
The building was officially opened by the Queen when she visited East Sussex with Prince Philip, last month.
Among documents in the archive is a letter in cipher dated 8 July 1646, from Charles I to John Ashburnham.
It was sent to Paris where the groom of the bedchamber had joined Queen Henrietta Maria and told that the king considered his position lost.
The recipient is buried in the family vault at Ashburnham, near Battle.
Family tree
The Keep will store records from the county council, Brighton and Hove City Council and the Special Collections of the University of Sussex.
It will also include the headquarters and library of Sussex Family History Group.
Digital archives kept in a temporary home at Lewes Library after The Maltings closed in May have been moved to the new building in time for its public opening on Tuesday.
The council said the tithe maps and apportionments, estate maps, images of parish registers and documents, probate records and photograph collections stored on computer were particularly useful for anyone wanting to research their family tree or the history of their property.
"The Keep is a fantastic facility and a one stop shop for anyone researching the history of East Sussex," said Councillor Chris Dowling.
"I am delighted that the centre will be able to open with a full complement of records."