Broadcaster Dimbleby is Towner gallery's first chairman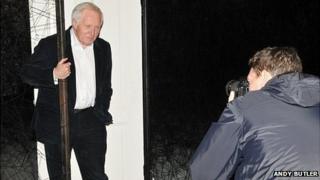 Broadcaster David Dimbleby has become the first chairman of Eastbourne's Towner gallery.
Dimbleby said he had been a supporter of the Towner since turning the first sod when building work started on the gallery in 2005. He officially opened the gallery four years later.
He has now become the gallery's first chairman of the board of trustees.
Towner's executive director Emma Morris said Dimbleby had strong links to the gallery and town and a passion for art.
The appointment of a chairman is part of the gallery's move to becoming a charitable trust next April, a step that will help it secure funding, commission art, and acquire new works for its collection.
'Art appeal growing'
Dimbleby, who hit the headlines this week after getting his first tattoo at the age of 75, said: "Towner is a wonderful gallery space in a fine building, which has been a great boost to Eastbourne.
"From the many films I have made for BBC1 on the arts in Britain, I know the appeal of art to the public is growing all the time and it is a privilege to have been asked to help to nurture it."
The gallery has had more than 800,000 visitors since it opened four years ago.
It was built at a cost of £8.5m and has 1,250 square metres of display space which the gallery has said is the largest space in the South East.
Towner currently has a collection of about 4,000 works including what it describes as the largest and most significant body of work by 20th Century British artist Eric Ravilious, who studied in Eastbourne.
It is a partner of the Tate gallery and a recipient of the Art Fund International Award.
One of its latest commissions is an installation by Chiharu Shiota, which sees visitors encounter a series of five doors into a labyrinth woven from black yarn.
The installation can be viewed until 5 January.