Brighton Pavilion £35m revamp plan announced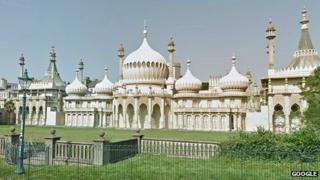 Plans for a £35m revamp of Brighton's Royal Pavilion, Dome and Corn Exchange have been announced.
The proposal is to restore the historic buildings, possibly create new ones and tie the history of the pavilion to the other buildings.
The Arts Council had pledged £6m to the project and the Heritage Lottery Fund will also be approached for funding.
Brighton and Hove City Council said the money was needed to restore the "very difficult and special buildings".
The palace, a mixture of Indian and Chinese styles, was built for the Prince Regent, later King George IV, between 1787 and 1823.
It was designed by a team of architects led by Sir John Nash, who also designed parts of Buckingham Palace.
The Brighton Dome and Corn Exchange was originally the Prince Regent's riding house.
Andrew Comben, CEO of Brighton Dome and Festival, said those involved knew the amount was a "really ambitious" target in the current economic climate, "but we're also really aware of the iconic value of these buildings and the importance to the whole country of the estate".
The leader of the town's council, Jason Kitcat, said the authority and the Dome and Festival did not have the resources to restore the "very difficult and special buildings".
"We hope that if we use this money to get to a stage where the income stream is enough to keep things moving forward, we'll have created a permanent, lasting monument here that future generations can enjoy," he added.