Shoreham Adur Ferry Bridge opened by Duke of Gloucester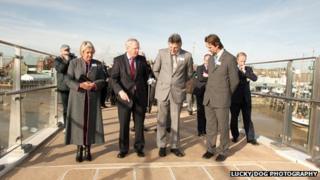 A £10m swing bridge has been opened in West Sussex by the Duke of Gloucester.
The Adur Ferry Bridge in Shoreham will allow pedestrians, cyclists and mobility scooter users to reach the town centre from Shoreham Beach.
It replaced an old structure which had "taken a pounding" and could not be economically repaired.
Some residents had called for TV presenter Holly Willoughby to open the bridge, but spokesman Peter Wood said that was always "a bit of a joke".
Mr Wood said: "It all started with a really frivolous conversation in the pub late at night and it got reported on Facebook."
He said the media then picked it up and believed them to be discussing it seriously.
The royal visit and formal opening of the bridge were being followed by a celebration in which hundreds of people were joining in a conga across the bridge, he added.
"The thing about Holly Willoughby was a bit of a joke," he said. "We turned it into a celebration so that everyone can join in."
After the name of the bridge was unveiled, the Duke crossed the bridge to meet school children, cyclists and residents at the Shoreham Beach end.
West Sussex County Council cabinet member for highways Councillor Pieter Montyn said it was "an honour" to welcome the Duke of Gloucester for the occasion.
National cycling charity Sustrans has praised the bridge scheme.
Chief executive Malcolm Shepherd said: "The Adur Ferry Bridge marks the end of a very successful five year project to extend the National Cycle Network into the heart of communities across the UK."