Balcombe fracking protest eviction order granted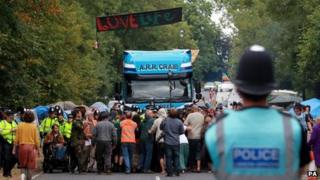 A possession order has been granted by the High Court over the site of a road-side fracking protest in West Sussex.
West Sussex County Council claimed campaigners were putting themselves and others at risk by protesting on the B2036 at Balcombe.
More than 1,000 people set up camp at the height of the protests against oil exploration by Cuadrilla, in August.
The council said darker nights and changes to the weather had made the 60mph unlit road more dangerous.
A council spokesman said: "Vehicle speeds have been increasing since the main protest camp ended, and, with darker nights and the change in weather, the dangers to safety have increased.
"An early decision will now be made about enforcing the order."
No camping
The authority went to the High Court in September to ask for the possession order but the application was adjourned by Mrs Justice Lang, who described it as "flawed".
The council reinstated its application and said it could not allow the camp to continue.
The authority's spokesman said: "The county council has provided a designated area where people can gather should they want to continue their protest, but camping will not be permitted.
"We would urge people who are still camping on the verges to respect the court decision, and leave the roadside and remove their possessions," he said.