Dylan Alkins: Community searches for 'swept away' boy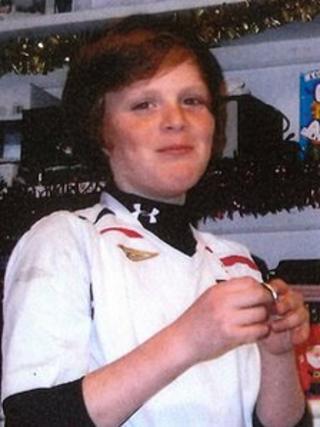 Friends of a 14-year-old boy who was swept out to sea, shortly before a storm battered Britain last month, have started a search of the coast for him.
Dylan Alkins was last seen playing in the surf at Newhaven's West Beach, East Sussex, on 27 October.
People who knew him and local residents met at the beach at midday to look for him.
RNLI coxswain Paul Legendre said it was a "waiting game" but official searches were still taking place.
'Helicopter searches'
Mr Legendre said: "Our thoughts are totally with them, the family and friends.
"Behind the scenes there is a lot going on. The coastguard helicopter and the police helicopter are doing searches.
"Even the pilot boat from Newhaven, every time that goes out for a ship it's searching the breakwaters. National Coastwatch (Institution) they've got a camera on their lookout on the cliffs and the police and coastguards at Solent can monitor that as well."
The searches on Friday and Saturday had been organised on Facebook.
A Sussex Police spokeswoman said: "We fully sympathise with their wishes to support the search for Dylan and to show respect for him. But we are asking them to consider very carefully what they plan to do and to consider their own safety.
"Ever since Dylan was swept away, the police, coastguard, lifeboat and helicopters have all carried out many searches all along the shore from Brighton to Beachy Head and will continue the search as and when weather conditions allow."
Dylan was last seen playing in the surf about 30ft (10m) from the shore at about 16:15 GMT. None of his friends was injured.
An immediate and an intensive search involving police, coastguard and the Newhaven in-shore lifeboat followed in "atrocious conditions".