William Avery-Wright's mother's anger over footbridge delay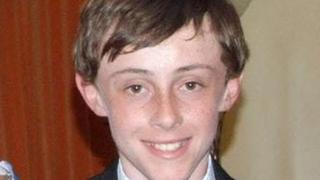 The mother of a boy killed crossing a Sussex road has spoken of her anger that a footbridge designed to protect other children has still not opened.
William Avery-Wright, 13, was knocked down almost two years ago outside Worth School in Turners Hill, near Crawley.
The bridge was due to open in September, but construction problems have led to delays.
The school said the delay was caused by issues outside of its control.
William was running late for a rugby match when he was hit by a Land Rover while crossing the road between the school and its playing fields on 30 November 2011.
An inquest at Crawley Town Hall recorded a verdict of accidental death.
A teacher at the public school said pupils of William's age should have been supervised.
At the hearing, the school's solicitor assured the coroner that the bridge was being built and that it would be ready for September.
William's mother Lisa said the delay "makes me even more angry than I had been feeling anyway".
"The whole thing has just been completely distressing for me and my husband.
"It's turned our lives upside down, it brings home to us the fact that they're really not taking it seriously and allowing the possibility of something like that happening again."
His father William has previously criticised the school for telling other parents about his son's death before him.
He found out about William's death on the way to hospital after receiving condolence text messages.
The school said it told other parents in "good faith" believing William's parents had been informed by police.
Charles Hendry, Conservative MP for Wealden, said that after such a tragedy, it "beggars belief" why the bridge should not have been completed by the deadline.
In a statement, Worth School said the completion of the bridge was delayed by construction issues outside its control.
It said it had worked with contractors to rectify matters, and that the bridge would open "in the next few days".
"Any criticism of the school for the delay is entirely unjustified," the statement added.