Wax washed up on East Sussex beaches not hazardous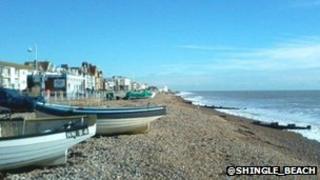 A substance washed up on East Sussex beaches is believed to be non-hazardous wax, the local council has said.
The material was left along the high tide line at Bexhill, as well as from Glyne Gap near Hastings in the east, to Normans Bay in the west.
Hastings Borough Council said the National Laboratory Service had confirmed the wax was not thought to be hazardous.
It said contractors would be clearing the substance away.
Councillor Jay Kramer said it was "very welcome news" that the material was not hazardous to beach users.
Notices were placed at entrance points to the beaches on Wednesday, warning visitors not to touch the substance while the Environment Agency took samples for analysis.
East Sussex County Council warned more deposits may appear at other points on the coast.