Huntsman spider found in St Leonards freight depot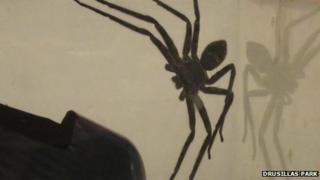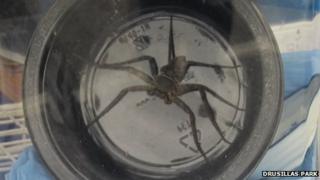 A spider "the size the palm of a hand" has been found in a shipping container in East Sussex.
The 7in (18cm) huntsman, common in Australia, was found at a freight depot in St Leonards while a box of BMX parts from Taiwan was being unpacked.
At first it was thought to be a plastic spider as it was not moving, staff at BMX Distribution said.
Joe Woodburn, warehouse manager, said: "It started to warm up and was jumping up the side of the box."
The RSPCA says huntsman spiders can give a nasty bite but are not a big threat to humans.
Mr Woodburn said the spider was "as big as the palm of my hand".
"We managed to get it into a big plastic container where we kept it while we called the RSPCA," he said.
"We get containers like this all the time and we have always joked that one day we'd open one up to find some kind of ferocious animal in there, but I never expected to find a spider as big as this."
'Arachnophobe's worst nightmare'
The spider was believed to have been in the crate for several weeks.
They can survive for long periods without food and water, the RSPCA said.
Zoe Ballard from the charity was called out to collect the arachnid.
"I must admit I was worried all the way that it would get out and escape in my van," she said.
Tony Woodley from the RSPCA said huntsman spiders were "unlikely to cause too much harm unless you suffer an allergic reaction".
"However, because they are so big and they run around so quickly they are probably an arachnophobe's worst nightmare," he said.