'Waxy substance' washed up on East Sussex beaches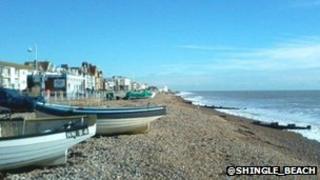 People are being advised to stay away from a "waxy substance" that has washed up on the East Sussex coast.
The material has been left along the high tide line at Bexhill, as well as from Glyne Gap near Hastings in the east, to Normans Bay in the west.
The Environment Agency has taken samples and expects to have the results of analysis on Friday.
Notices have been placed at entrance points to the beaches warning visitors not to touch the substance.
Earlier this month, dog owners in Jersey and Guernsey were warned to keep their pets clear of any white substances washed up on beaches.
The substance washed up on the Guernsey coast was identified as palm oil. The warnings came days after the death of a dog in Cornwall after it ate palm oil.
The Maritime and Coastguard Agency said it was "highly unlikely" the source of the pollutant will be established.
Rother District Council and Hastings Borough Council have made arrangements for the substance to be removed once the material has been identified.
With more strong wind and swill forecast, East Sussex County Council has warned more deposits may appear at other points on the coast.