Cuadrilla signs new 30-year lease on Balcombe site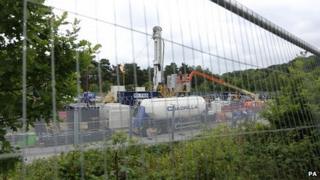 Energy company Cuadrilla has signed a new 30-year lease on land in West Sussex where it carried out test drilling for oil in the summer.
Campaigners who protested against the drilling in Balcombe in August fear that fracking might be needed to extract the oil found at the site.
Cuadrilla says the new lease was "normal practice" and will allow it to continue with "exploration plans".
Landowner Simon Greenwood has not replied to requests for a comment.
Cuadrilla dismantled its equipment at Balcombe in September but has submitted a request to West Sussex County Council for permission to test the flow rate of extraction at the Balcombe well.
It has said the new application does not include a request to carry out hydraulic fracturing, also known as fracking.
'Complete generation'
The No Fracking in Balcombe Society (NoFibs) said surveys of village opinion had shown over 80% of villagers are opposed to fracking.
It said the 30-year lease was signed on 26 September after the original three-year lease on the site ran out.
Spokeswoman Sue Taylor said: "Thirty years is such a long time - it is a complete generation.
"For mothers in the village with young children it means their children will be grown up and left the village by the time this lease finishes."
The energy company said in a statement: "Cuadrilla can confirm that they have taken out a new lease on the land at Balcombe in order to continue with their exploration plans.
"This is normal practice for onshore oil and gas leases."
More than 1,000 activists set up camp at the height of protests in August.