Historic Sussex lifeboat Priscilla MacBean saved from chicken coop fate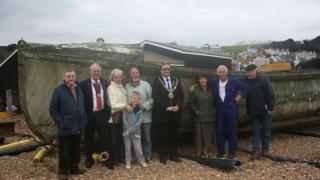 A historical lifeboat that faced a future as a chicken coop is to be restored and put on public display.
The Priscilla MacBean, Eastbourne's sixth lifeboat, was spotted in a field in Hailsham, East Sussex, by Hastings resident D-Day White.
Charlie Sharrod, one of the restorers, said it was in danger of being turned into a coop by the farmer who owned it.
It was bought by Mr White and John Hamilton, who recruited fellow enthusiasts to help restore the boat.
Built at Cowes in 1921, the Priscilla MacBean was dedicated by the Bishop of Lewes later that year.
Mr Sharrod, a former Hastings lifeboat coxswain, said Mr White had been "intrigued" to discover the boat in the field, and was determined to recover it.
He said it ended up in the field after it was taken to Eastbourne for restoration, but could not be returned to seafaring condition.
Its owner then sold it to the farmer.
Mr Sharrod said: "We thought we couldn't let it go to rot."
The lifeboat was originally intended for service at Eastbourne, Mr Sharrod said.
But she was not considered suitable for the English Channel and was moved to Kirkcudbright, Scotland in 1928 to cover the Solway Firth.
A few years later, she was moved to Maryport in Cumbria, before being retired from RNLI service in 1934.
'Lasting legacy'
The lifeboat was later used as a leisure boat in France and as a pleasure boat on Lake Windermere.
"After some years as a houseboat she was bought by someone in Eastbourne with a view to operating her as a pleasure boat in the English Channel, but sadly this idea did not get off the ground," Mr Sharrod said.
The group now plans to restore the boat and display it in a prominent position in Hastings Old Town.
It is looking for volunteers to help clean, repair and paint the boat, and for donations towards its restoration.
It is hoped it will be on display by 15 November next year, to coincide with the anniversary of the Rye lifeboat disaster, in which the 17-strong crew of the Mary Stanford drowned when the lifeboat capsized in 1928.
Mr Sharrod said the restored boat would be a lasting legacy to the history of Hastings Old Town and its lifeboatmen.
He added: "In addition it will be a permanent reminder of the risks taken by our men and women who crew the lifeboats and as a further tribute to those men of Rye Harbour and elsewhere along the coast who tragically lost their lives in attempting to save others."