Eye and ear defenders advised for Lewes bonfire visitors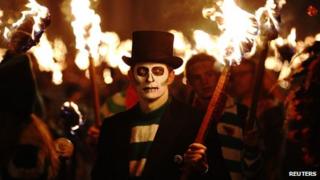 Visitors to the Lewes bonfire celebrations on Tuesday are being advised to use eye and ear defenders by the town's council.
More than 80 people needed treatment by ambulance crews at last year's celebrations in East Sussex, with seven being sent to hospital.
Tens of thousands of people are expected for the event.
After the 2011 celebrations, eight patients attended the Sussex Eye Hospital.
Two were blinded and three now have the risk of life-long glaucoma.
A Lewes Borough Council spokesman said: "We are advising people to take responsibility for their own safety.
"In previous years there has been a problem with 'rookies' causing serious eye injuries.
"We are keen to promote the use of eye protectors (and ear defenders) and discourage the throwing or dropping of fireworks either in the crowds or in the processions."
Some roads in Lewes will be closed on Tuesday afternoon and evening, with traffic being diverted around the outside of the town.
On-street parking will also be suspended in parts of the town.