Brighton cat cafe criticised by charity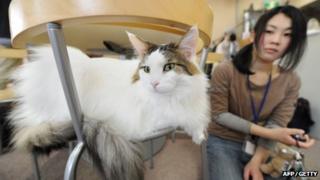 An animal charity is opposing plans to open a cat cafe in Brighton.
Jon Ely and Keri Craddock hope to open the cafe called Koneko - the Japanese word for kitten - in March.
Under the plans, the cafe will have resident animals and cats will also be available for adoption.
Maggie Roberts, from Cats Protection, said being in a confined space with a changing group of people could be stressful for the animals.
'Exploited'
Ms Roberts, director of veterinary services at the charity, said: "Cats have evolved from a solitary hunter and they don't really have any need to have friends or companionship.
"Cats can be stressed by being in close proximity with many of their own kind, and so the whole principle of a cat cafe when they're having eight, 10, 12 or more cats within a confined space - that can be very stressful.
"You have an ever-changing population of humans coming in and they will expect contact from cats because they're paying for that contact - and the cats may not want the contact."
The charity said it believed that people who cared about the wellbeing of cats would not want them "exploited as a gimmick to sell coffee".
Mr Ely claimed research had shown cats were "quite happy" to live together, and some preferred the company of others.
He said the cats could go "high up" if they wanted to get away from people.
Ms Craddock added that the pair would ensure the rescue cats had the right personality for the cafe.
The UK's first cat cafe opened in Totnes in Devon in May, while London's first cat cafe was granted approval in September.