Crowborough birth unit shut to cover Hastings staff shortage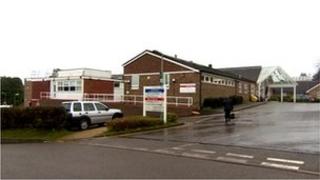 A maternity unit has been shut temporarily to allow midwives to cover shortages at another hospital 28 miles (45km) away.
Crowborough Birthing Centre is closed for four days so staff can work at Conquest Hospital in Hastings.
Women who were due to give birth at Crowborough over the weekend have been advised to contact their midwife.
East Sussex Healthcare NHS Trust blamed the situation on sickness and a shortage of agency staff.
It said it had recently recruited six midwives and was in the process of taking on a further four.
'Nobody seems to know'
Giselle Sommerville gave birth at Crowborough birthing centre, even though it was officially closed as her labour was too advanced to go elsewhere.
She said: "After giving birth I had to leave within three hours of having had a baby in the middle of the night.
"It was pretty startling and very upsetting as a new mother."
She said she was left "bewildered".
Chantal Wilson, chairman of the Friends of Crowborough Hospital, said the birthing centre would be closed until Monday.
"It will be reopen for all services [on Monday] but only for seven days. Thereafter absolutely nobody seems to know."
An average of 17 babies are born each month at Crowborough. The Conquest Hospital delivers an average of 250 in the same period.