Rampion south coast wind farm plans discussed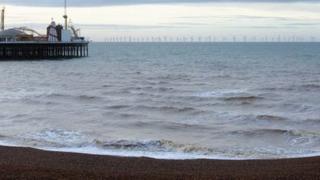 Plans for an offshore wind farm that would generate enough electricity to power two thirds of the homes in Sussex are being discussed at an inquiry.
Developer E.On wants to build up to 175 wind turbines eight miles (13km) off Sussex between Peacehaven and Worthing.
The proposal for the Rampion wind farm is being examined by the Planning Inspectorate in hearings at the Brighton Centre until 7 November.
It will hear arguments for and against with a final decision due next summer.
If approved, the wind farm will create up to 85 local jobs at an operational and maintenance base at Newhaven Port.
Environmental impact
Earlier this year, a revised scheme was submitted to the government after the number of turbines were reduced by 20 amid concerns about the impact on views from the South Downs National Park.
The site would be visible from the national park and resorts including Brighton.
Objections to the proposal have also included concerns about the impact on fishing and the environment.
In response, E.On said it had drawn up a plan to minimise the impact on marine mammals and was working to ensure that local fishermen would not be adversely affected by the project.
It concluded: "In view of the fact that Rampion is a Nationally Significant Infrastructure Project (NSIP), invariably there will be some residual impacts.
"However, we have taken into account consultation responses on a wide range of issues and addressed them with various mitigation proposals that we believe will limit these impacts as far as possible."