Original Triumph Spitfire to be sold by Sussex firm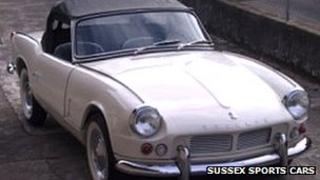 A milestone in the UK's illustrious sports car history is being sold by a Sussex classic cars specialist.
The fully restored Triumph Spitfire was the first to come off the production line at its factory in Coventry.
Lewes-based Sussex Sports Cars is marketing it online on behalf of its owner, a Swiss financial consultant.
The firm's Gerry Wadman said the owner, who restored the vehicle using Triumph parts, is asking £45,000 for the hand-built two-seater.
The car was assembled at the Standard-Triumph Canley plant in Coventry in 1962 - the very first in a marque that was to help transform the ailing firm's fortunes.
Wind-up windows
Boasting chassis number FC1, it generated interest at that year's Motor Show in Earls Court, as a rival to the Austin Healy Sprite and MG Midget.
Its original retail price of £641 meant that unusually, it was a quality sports car at a reasonable price, featuring the latest mod cons, such as wind-up windows.
Now its current - anonymous - owner is looking for someone with deep pockets, prepared to pay substantially more for the one-off model than Spitfires normally fetch - typically between £15,000 and £20,000.
Mr Wadman, who said the vendor would not reveal what he paid for it, said: "[The original] was slightly more expensive than the MG Midget, which was the most popular [sports] car. Triumph put themselves in the market place slightly above that.
"They were aiming for the young executive, the young housewife, who wanted something a little bit special.
"And it was one of the most delicious, pretty looking cars that ever was built."
Mr Wadman said although the car is currently in Geneva, it will "almost certainly" come back to the UK which he said is the biggest market place for classic cars.
However, Darren Sharp, secretary of Club Triumph, the UK's oldest surviving Triumph car club, said it was quite possible the unique Spitfire could be lost to the UK.
"They're fetching more in Europe than in Britain at the moment," he said. "It could well end up in America."
He added: "It helped turn Triumph round from being almost bankrupt to a profitable company.
"It was the sporty car for the young man when until then sports cars had been for the very rich."