Worthing's Splashpoint centre's cleanliness questioned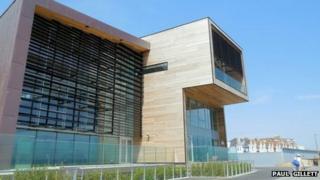 Cleanliness at a new £18m leisure centre in West Sussex has been described as "woeful" by the leader of the opposition on Worthing council.
The Splashpoint facility in Worthing opened six months ago and this month won a global architectural award.
Councillor Alan Rice said customers had been openly speaking about dirty locker rooms and toilets at the swimming pool.
Worthing council admitted it did not predict the "explosion" in user numbers and has now improved cleaning work.
Professional cleaners
Council leader Paul Yallop said the number of people now using the facility in Brighton Road had more than doubled, with 54,000 visitors to the pool in the first month of opening, compared to 21,000 at the town's old pool the year before.
"There's been a huge explosion in usage, and we were caught out by that. We thought that would calm down and it hasn't," he said.
"So we have completely changed the cleaning regime and employed a professional cleaning company that are in there every day."
Mr Yallop said the lifeguards used to do the cleaning when they were off-duty, but that was no longer happening.
He said maintenance of items such as hairdryers had also been increased.
Mr Yallop added the leisure centre had been "a victim of its own success".