Storm puts East Sussex bin collections on hold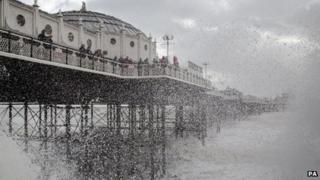 People in East Sussex have been told not to put their bins out for collection on Monday due to a predicted severe storm.
Millions of people in England and Wales have been warned to prepare for heavy rain and hurricane-force winds on Sunday night and Monday.
East Sussex County Council says collections have been suspended because of the safety risk posed by the winds.
Gusts could reach up to 80mph (128km/h), or higher in coastal areas.
Geoff Mee, the authority's assistant director for environment, said trying to empty bins in winds of up to 80mph was dangerous for refuse collectors and the public.
"We'd urge everyone to ensure their bin, along with any other rubbish or recycling containers, is safely stowed away," he said.
"Local district and borough councils will publicise revised bin collection arrangements in due course."
'Blowing around'
Kevin Boorman, speaking on behalf of all East Sussex district and borough councils, added: "The weather forecast for tomorrow for East Sussex is, frankly, awful.
"These conditions are expected to last from the early hours until around midday.
"Many of us remember what it was like in 1987, and the last thing we want is to add to the debris on the roads by having waste and recycling, and the associated bins, blowing around all over the place.
"Indeed, if the weather is as bad as forecast, many roads may be impassable with fallen trees and debris."
He said waste and recycling staff would help with any clean-up.
West Sussex County Council has warned people to secure outdoor furniture, ladders or anything that could be blown into windows and other glazing.