Hastings council opposes Post Office plan to move branch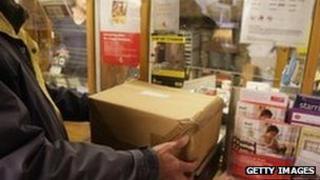 A proposal to close a Crown post office in an East Sussex town and move it to a local branch of WH Smith has met with criticism from councillors.
The Post Office wants to shut its Cambridge Road office in Hastings as part of its plans to close up to 70 of its main High Street premises.
On Wednesday night, councillors from Hastings Borough Council unanimously backed a motion condemning the plan.
Leader Jeremy Birch said the WH Smith shop was too small for a post office.
He added that it was also inaccessible for disabled customers or parents with prams or pushchairs.
"We will now formally respond to the Post Office opposing the proposed closure of the Cambridge Road office," he said.
The Post Office said WH Smith had been selected to partner 16 of its branches by next April.
It said they would all offer access to the same range of Post Office services from "new more modern outlets with longer opening hours for customers and located in close proximity to the current site".
Each move will be subject to a six-week public consultation.