Crawley free school head teacher replaced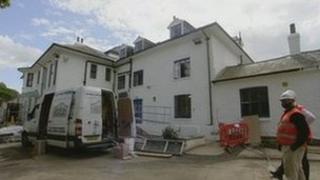 The head teacher of a free school in West Sussex has been replaced after Ofsted said it was inadequate and placed it in special measures.
The Discovery New School said Lindsay Snowdon had been replaced by a temporary head who had helped improve other failing schools.
The Montessori primary school in Brighton Road, Crawley, opened in September 2011 with 64 places.
Free schools are state-funded but operate outside the local authority.
The Crawley school is one of more than 170 opened since September 2011.
Ms Snowdon, who was not a qualified teacher, has been replaced by Penny Crocker.
Qualified staff
Parent Melanie King said she had removed her two children from the school and found them places elsewhere because their education was suffering.
"We were disappointed to discover that not all staff and management of the school had the necessary qualifications that one might expect from a state school," she said.
"It makes me angry.
"I feel that the government has got a lot to answer for. Michael Gove really needs to look a lot closer at how they are monitoring free schools and how they are being allowed to be set up.
"The schools really have to be run with qualified staff."
Quality education
The Discovery New School said that although Ms Snowdon did not have qualified teacher status she had experience in other teaching roles and as a school governor. She also had relevant Montessori qualifications.
It said all its classroom teachers apart from one, including Ms Crocker, had qualified teacher status.
"We have recently appointed a new temporary head teacher, Penny Crocker, who has spent the last few years going into schools that have been placed in special measures and helping them accelerate progress towards good and outstanding status," it said in a statement.
The Department for Education has said free schools are "raising standards and giving parents more choice".
It said the government was not going to take away the freedom free schools have for teachers to "set their own curriculum, decide how they spend their money and employ who they think are the best people for the job".