Chichester stages rough sleepers charity event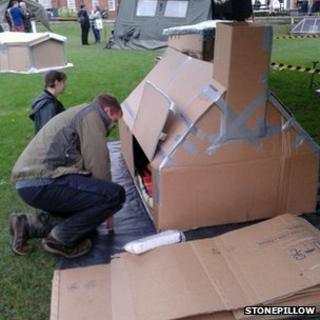 Dozens of people have slept rough in West Sussex overnight to raise money for a homeless charity.
Organiser Stonepillow said it hoped to raise £10,000 through the event in Chichester.
Those taking part built shelters on Saturday and stayed in them until 07:00 BST on Sunday.
Nine-year-old Ella Allchin said: "It was a little bit cold but not a lot, and I did get a bit of sleep which was good."
She said she built her shelter with a cardboard boxes, a plastic sheet and sticky tape.
"After I heard it raises money for a charity called Stonepillow, I really wanted to help them," she said.