Brighton Green leader Kitcat blames 'ill-discipline' for poll slump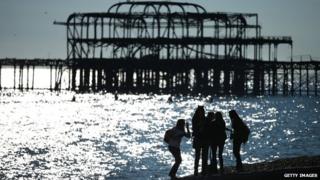 Brighton's council leader says cuts and some ill-discipline may have affected the Green Party's popularity but he has no intention of stepping down.
Councillor Jason Kitcat also said there could be talks about his position following a poll which suggests a big drop in support for the party.
A ComRes poll suggests the Greens would come third if an election was held now.
The research, commissioned by BBC South East, also indicates Labour would win the biggest share of a vote.
The ComRes Poll of 1,004 Brighton and Hove adult residents was conducted by telephone between 3 and 8 October 2013.
Transport and roads appear to be the biggest area of contention, with one in five people saying this was the single biggest factor that would influence their vote.
The recently introduced 20 mph zone and congestion in the city were mentioned regularly, with the cost and availability of parking being the main issue.
But the research also found 51% of those polled thought the environment had been managed successfully since 2011 and 65% thought the council had succeeded in generally making the area a nice place to live.
Brighton and Hove is the only Green-led council in the country. The party took minority control of the authority in May 2011.
Mr Kitcat survived a plot to oust him by some of his own councillors in May this year.
Christian councillor Christina Summers was expelled from the Brighton Green Party in August 2012 after voting against a motion on government plans to allow gay couples to marry.
The city's Green MP Caroline Lucas also disagreed with the council over its handling of the long-running bin collection dispute, which saw rubbish piled across the city streets for a number of weeks.
Mr Kitcat said: "Clearly it's a very difficult time to be in local government.
"We've got the worst level of cuts of any local authority in any region and it's inevitable that some of that will have a political impact.
"This is mid-term, there have been moments of ill-discipline which have been unfortunate and not put us in the best possible light."
'Discussions about role'
He added: "If you dig down into the detail of that poll, you see that six out of 10 of the key areas of council activity, the majority of respondents actually thought we were doing a good job.
"We're successful, for example, at delivering a nice place to live, successful at improving education, successful at making it a safer place to live as well, so in the detail there's a very strong message there which we need to go out and communicate."
"We work together as a group and as an administration to deliver this, so we all need to reflect on that [the poll]. Of course there may be discussions about my role in that and that's all well and good. We are an open party."
George Jones, professor of local government at the London School of Economics, said: "It's been very difficult for them, I can see, because they're so used to being in opposition, they're so used to protesting about anything they dislike.
"It really is a jolt, a culture shock for them to find that they're in government and that really they've got to behave in a different way - they are no longer the party of protest they are the city government."
He added: "They've got to do something drastic in the next few months.
"It may be that they've got to reverse some policies or give them a different emphasise to them."
The poll confirmed what Labour councillors were being told by residents in the city, according to group leader Warren Morgan.
'Want them out'
"I'm pleased obviously, there's a long way to go until the elections in 2015," he said
"We're well placed to carry on listening, carry on talking to the electorate and hopefully get some success in May 2015.
"There's only 573 days to go until the local elections and I think from what we're hearing on the doorstep is that the public's view of the Green Party is settled.
"They don't think they're united, they don't think they're competent and they want them out."
Conservative leader Geoffrey Theobald believes the drop in support for his party suggested by the poll was a mid-term dip.
He said: "You have to look at each party and you have to take them seriously, and I certainly do.
"I expect UKIP support to peak next year at the European elections and after that I expect their support to decrease.
"The elections will be at the same time as the general elections and I think that a number of people who are UKIP supporters will appreciate that by voting for UKIP they're just letting the Labour Party in.
"I think that when you're in mid-term then people are entitled to vote and show their dissent on a number of policies but when you get round to general elections... people will look seriously at the situation and say it's not a good idea to protest if I'm going to let the other party in."