Chichester stages rough sleepers charity event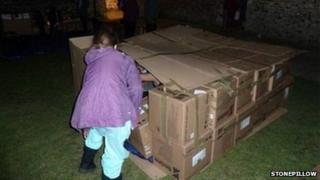 More than 100 people are expected to sleep rough in West Sussex overnight to raise money for a homeless charity.
Organiser Stonepillow said it hoped to raise £10,000 through the event in Chichester.
It said those taking part would build shelters later and stay in them until 07:00 BST on Sunday.
A spokesman said: "In the unfortunate event that it rains, the quality of our cardboard shelters will be put to the test."
The charity said the rough sleepers would be fenced off from the public while they camped out in the cathedral's grounds.
Cardboard boxes were being provided by the charity.
The spokesman added: "You can customize your shelter, so bring things along that might be useful such as glitter, sequins, paint, toilet rolls - whatever is going to make your shelter standout."