Eastbourne Polegate ward closure condemned by campaigners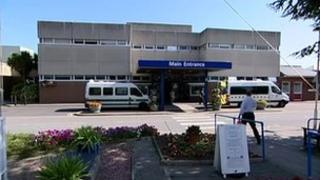 The decision to close a ward at an East Sussex hospital has been condemned by campaigners.
Eastbourne District General Hospital's Polegate Ward, where patients are rehabilitated before being discharged, shuts later.
East Sussex Healthcare NHS Trust recently announced it needed to save £10m by the end of March 2014.
The trust said Polegate patients would be cared for in other parts of the hospital or returned home earlier.
Liz Walke, chairwoman of the Save the DGH group, said that it was good if patients were leaving the 32-bed ward sooner, but only if they were ready.
"That's my fear - that they will be discharged far too early and with no support and no care.
"They've got to go to empty beds within the hospital, not be shoved out into homes or go out too early."
Temporary structure
The GMB union's Gary Palmer said the closure could be followed with other wards being downgraded or shut.
"This isn't going to be the only place [and it] has to stop," he said.
"This is a growing town [which] needs to be serviced with a hospital that's growing."
In a statement, the trust said a large number of patients were ready to be discharged from various wards, but had not been able to go home for a variety of reasons.
A spokeswoman added that the ward, which is made up of a small complex of portable buildings, was a temporary structure and, after more than eight years, was nearing the end of its usage.
"There is a focus on making sure that patient care is being delivered in the right place and this is not always within an acute hospital environment," she said.
"For this reason, it means we no longer require all our bed space, so a decision has been made to close Polegate."
She said staff on the ward would be redeployed to other areas of the hospital, which would reduce the need for temporary agency staff.
She added that there would be no redundancies as a result of closing the ward.