Boris Johnson: PM and Osborne 'kidding themselves' over airport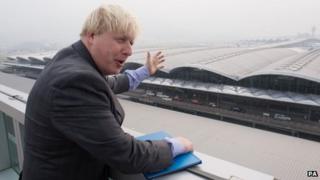 David Cameron and George Osborne are "kidding themselves" if they think Britain can stay competitive without a new multi-runway airport, Boris Johnson has said.
The London mayor called on the government to follow the example of Hong Kong, whose Chek Lap Kok airport is on land reclaimed from the sea.
Mr Johnson has plans for a hub on an island in the Thames Estuary.
The Airports Commission is due to deliver a shortlist of the proposals.
Chek Lap Kok, which opened for commercial flights in 1998, replaced Hong Kong's old airport, which was situated in an urban area with no room for expansion.
Mr Johnson claimed the situation was similar to the one currently facing Britain, and said the expansion of Heathrow was unworkable.
Mr Johnson's three proposals to the government commission looking at airport expansion in the South East include a four-runway hub on an artificial island in the Thames Estuary, previously dubbed Boris Island.
He has also proposed a hub on the Isle of Grain in Kent, or expanding Stansted airport.
Heathrow has proposed three options for a new runway in west London and Surrey, while Gatwick wants a second runway to be positioned south of the existing airport in West Sussex.
The mayor is on a week-long visit to China to promote trade between the Far East and London.
Mr Johnson said: "The Chinese authorities have clearly figured out that aviation is absolutely key to economic growth and they are building a legion of mega-airports that will link them to every market in the world.
"It is hugely impressive yet also devastatingly depressing when you consider that, as long as the vision for aviation in the UK remains steadfastly wedded to Heathrow or a make-do solution, we will not be able to access many of the mega-airports opening here or in the many other dynamic economies building new airfields around the globe."
A Department for Transport spokesman said: "The government is clear that to stay ahead we need to plan for the future and build a strong political consensus, which is why we have asked Sir Howard Davies to conduct a detailed, independent review of all the options in order to develop a lasting solution to maintain the UK's global hub status."