Sutton United asked for help over attack in Lewes street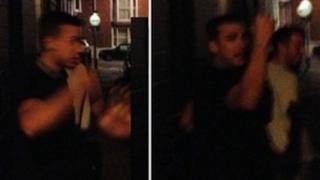 Police are contacting Sutton United FC for help in tracking down three fans involved in an attack on two men in a Lewes street after an FA Cup tie.
The men were attacked after asking the group to stop urinating in Albion Street on Saturday night.
Police have released photographs of the suspects who they believe stayed in Lewes to drink after the match.
The victims were attacked at about 20:30 BST after challenging the group, believed to be Sutton supporters.
Club contacted
A police spokesman said neither victim was treated in hospital, although one struck his head when he was punched to the ground and the other suffered cuts and bruises.
The man suspected of carrying out the assault is aged 20-25 and about 5ft 10in tall, wearing a dark short-sleeved polo shirt and blue jeans.
They want to hear from anyone who saw the attack or believe they may have seen the men in the town, possibly in licensed premises, during Saturday evening.
The spokesman said: "We are in the process of making enquiries with Sutton United Football Club about the suspects."