Kent youth police and crime commissioner recruitment begins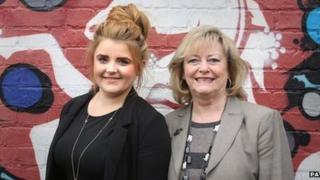 Recruitment has opened for a youth police and crime commissioner in Kent to replace Paris Brown, who stood down over inappropriate posts on Twitter.
Candidates have been invited to apply through the Kent Police and Crime Commissioner's (PCC) website.
Miss Brown resigned from the £15,000-a-year post in April.
PCC Ann Barnes has said the new recruit would have to be "street savvy", but would receive help coping with the high profile nature of the role.
The 12-month internship entails developing a youth engagement programme to try to deter young people from committing crime, and working closely with police, councils and schools.
Miss Brown, who was appointed youth police and crime commissioner at the age of 16, stood down before starting the role following revelations of comments she had posted on Twitter when she was younger.
She said she had been "wildly exaggerating" when posting tweets about her sex life, drug taking and drinking.
But she quit after police investigated complaints that some of her comments had been racist and homophobic.
No action was taken and the posts were deleted.