Major Lewes regeneration plans unveiled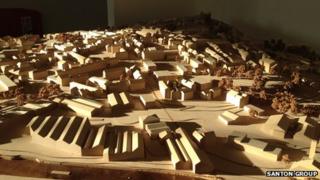 Plans have been unveiled for a major regeneration project near the centre of Lewes.
Developer Santon Group wants to redevelop North Street and the old Phoenix Industrial Estate beside the River Ouse in the East Sussex town.
Plans for the North Street Quarter project include 350 new homes as well as offices and shops.
Some residents in the town have expressed concern that not enough affordable housing will be on offer.
Santon Group said more than 500 people had given their views during the second public consultation into the plans.
Many said they wanted local businesses to provide long-term employment to keep young people in the town.
A Santon Group spokesman said affordable housing was a "high priority" and that the development would be sustainable and would provide services and jobs.
"The regeneration of the North Street Quarter is a great opportunity to put the area back at the heart of Lewes," he said.
He said it was "very much in line with the local joint core planning strategy which recognises the need to provide homes and employment in a sustainable way".
An application is expected to be submitted early next year.