Sajin Panikkassery cleared of sex act with Chichester hospital patient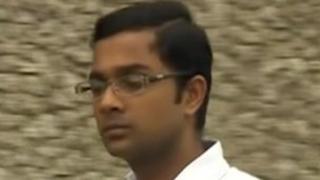 A healthcare assistant has been cleared of sexual activity with a patient with a mental disorder in her Chichester hospital bed.
Sajin Panikkassery, 29, of Langton Road, Chichester, had denied the charge, saying the woman kissed and grabbed him as he changed her bedding.
Brighton Crown Court heard the 22-year old woman, who had a mental disorder, was recovering from surgery.
The hospital trust said it had a duty to its patient to alert police.
'Panting noises'
Mr Panikkassery had been on duty at St Richard's Hospital in January this year when the woman was admitted with a dislocated shoulder.
The prosecution said he was discovered by another patient who pulled back the dividing curtain after hearing "panting noises".
Mr Fletcher said the patient saw Mr Panikkassery standing beside the woman's bed, and then kiss her on the lips before leaving when he realised he was being watched.
The following morning the woman told staff that a male nurse had made her sleep with him, he said.
Police were called and Mr Panikkassery's DNA was found in samples taken from the woman, he added.
'Credibility issues'
The healthcare assistant told the court the woman had asked him for clean sheets and then kissed him on the lips and put her hand inside his trousers, saying: "It's all right. I love you."
During the trial, prosecutor Marcus Fletcher told the court the woman had been vulnerable and an "easy and obvious target" because she had a mental disorder.
But he said there were "issues about her credibility" and she had previously made false allegations of rape.
She was not called as a witness during the case.
The jury acquitted Mr Panikkassery after two hours' deliberations.